#SantoDaime 1-15 MAIO 2018 CURSOS DE FLORAIS DA AMAZÔNIA NA FLORESTA – CÉU DO MAPIÁ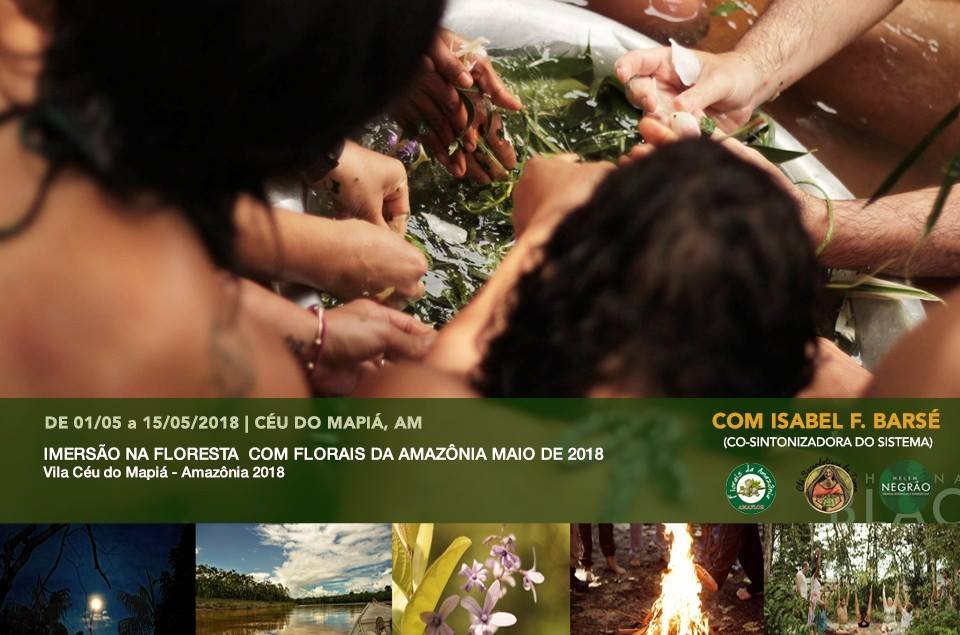 1-15 MAIO 2018 CURSOS DE FLORAIS DA AMAZÔNIA NA FLORESTA – CÉU DO MAPIÁ
IMERSÃO NA FLORESTA MAIO 2018
CURSOS DE FLORAIS DA AMAZÔNIA NA FLORESTA
2 cursos em uma jornada
Cursos Classificação pela ordem da natureza (nível básico) e cursos e Sete pontos de força (nível avançado)
Céu do Mapiá – 01 a 15 de maio de 2018
Acesse: www.cursosnafloresta.com
EMBARQUE NESSA JORNADA E VOCÊ NUNCA MAIS SERÁ O MESMO!
Convidamos a todos para a viagem com destino ao Céu do Mapiá para a IMERSÃO NA FLORESTA com os Cursos de Florais da Amazônia, onde uma oportunidade única de cura e transformação pessoal espera por você!
"Um caminho de acesso ao seu EU Interior, sua essência sagrada e única, aquilo que está no âmago de Si mesmo. Esse caminho suave e sereno, intenso e profundo das flores da floresta, essência pura da vida que se perpetua infinitamente em cada criatura, como um instrumento de autoconhecimento e auto cura, de purificação e de evolução.
A jornada que leva ao Céu do Mapiá, berço dos Florais da Amazônia, por si só já é uma experiência profundamente transformadora. Ao percorrermos os caminhos das águas da floresta, nos deparamos com mundos desconhecidos, forças da natureza dominante em todas as direções, em que cada instante nos leva mais adentro das matas virgens, onde a verdade é a essência de tudo e as Leis Maiores se encontram em total manifestação.
Essa experiência inesquecível nos leva a viajar no rumo de nosso próprio interior em busca de nossa Flor, da flor do nosso Ser, que nos proporcionará tudo que for necessário para o perfeito desenvolvimento e aperfeiçoamento constante da vida".
.:: ACESSE TODAS AS PRINCIPAIS INFORMAÇÕES no site:
www.cursosnafloresta.com
As vagas são limitadas. Por isso, é importante realizar a sua inscrição o quanto antes para a perfeita organização de sua viagem e para que não corra o risco de perder essa grande oportunidade.
:: PRAZO FINAL PARA INSCRIÇÕES ATÉ 20 DE ABRIL DE 2018 ::
Aguardamos vocês nesta jornada inesquecível para dentro do nosso SER na floresta!
@helenegrao
#floraisdaamazonia#florais#medicinasdafloresta#centrodemedicinadafloresta#ceudomapia#imersaonafloresta#cursosnafloresta#remediosdanatureza#conexaocomafloresta#euprofundo#matavirgem#jornadanafloresta#seressencial#aventuranafloresta#sernatureza#florescernafloresta#isabelbarse#experienciainesquecivel
ES
1-15 MAYO 2018 CURSOS DE FLORALES DE LA AMAZONIA EN LA FLORESTA – CÉU DO MAPIÁ
IMERSIÓN EN LA FLORESTA MAYO 2018
CURSOS DE FLORALES DE LA AMAZONIA EN LA FLORESTA
2 cursos en una jornada
Cursos Clasificación por orden de naturaleza (nivel básico) y cursos y Siete puntos de fuerza (nivel avanzado)
Cielo de Mapiá – 01 al 15 de mayo de 2018
Visita: www.cursosnafloresta.com
¡EMBARQUE EN ESA JORNADA Y USTED NUNCA MÁS SERÁ EL MISMO!
Invitamos a todos para el viaje con destino al Cielo de Mapiá para la IMERSIÓN EN LA FLORESTA con los Cursos de Florales de la Amazonía, donde una oportunidad única de curación y transformación personal espera por usted!
"Un camino de acceso a su interior interior, su esencia sagrada y única, lo que está en el corazón de sí mismo. Este camino suave y sereno, intenso y profundo de las flores del bosque, esencia pura de la vida que se perpetúa infinitamente en cada criatura , como un instrumento de autoconocimiento y auto cura, de purificación y de evolución.
La jornada que lleva al Cielo de Mapiá, cuna de los Florales de la Amazonia, por sí sola ya es una experiencia profundamente transformadora. Al recorrer los caminos de las aguas del bosque, nos encontramos con mundos desconocidos, fuerzas de la naturaleza dominante en todas las direcciones, en que cada instante nos lleva más adentro de las selvas vírgenes, donde la verdad es la esencia de todo y las Leyes Mayores se encuentran en total manifestación.
Esta experiencia inolvidable nos lleva a viajar en el rumbo de nuestro propio interior en busca de nuestra Flor, de la flor de nuestro Ser, que nos proporcionará todo lo que sea necesario para el perfecto desarrollo y perfeccionamiento constante de la vida.
: ACEPTA TODAS LAS PRINCIPALES INFORMACIONES en el sitio:
www.cursosnafloresta.com
Las vacantes son limitadas. Por eso, es importante realizar su inscripción cuanto antes para la perfecta organización de su viaje y para que no corra el riesgo de perder esa gran oportunidad.
:: PLAZO FINAL PARA INSCRIPCIONES HASTA 20 DE ABRIL DE 2018 ::
¡Os esperamos en esta jornada inolvidable dentro de nuestro SER en el bosque!
EN
1-15 MAY 2018 COURSES OF FLORAIS AMAZÔNIA IN THE FOREST – CÉU DO MAPIÁ
IMMERSION IN THE FOREST MAY 2018
COURSES OF AMAZON FLORAIS IN THE FOREST
2 courses per day
Courses Classification by order of nature (basic level) and courses and Seven points of strength (advanced level)
Mapiá Sky – May 01 to 15, 2018
Access: www.cursosnafloresta.com
EMBARKEN ON THIS DAY AND YOU WILL NEVER BE THE SAME!
We invite you all to travel to Mapiá Heaven for IMMERSION IN THE FOREST with the Amazon Floral Courses, where a unique opportunity for healing and personal transformation awaits you!
"A path of access to your Inner Self, your sacred and unique essence, that which is at the core of Yourself. This gentle and serene, deep and deep path of forest flowers, pure essence of life that perpetuates itself infinitely in every creature , as an instrument of self-knowledge and self-healing, purification and evolution.
The journey that leads to Céu do Mapiá, the birthplace of the Amazonian Florals, is already a deeply transforming experience. As we walk the paths of the forest, we come across unknown worlds, forces of nature dominating in all directions, where every moment takes us deeper into the virgin forests, where truth is the essence of everything and the Major Laws meet in total manifestation.
This unforgettable experience leads us to travel within our own interior in search of our Flower, the flower of our Being, which will provide us with everything necessary for the perfect development and constant improvement of life. "
. :: ACCESS ALL THE MAIN INFORMATION on the site:
www.cursosnafloresta.com
Vacancies are limited. Therefore, it is important to register as soon as possible for the perfect organization of your trip so that you do not risk losing this great opportunity.
:: FINAL DEADLINE FOR ENROLLMENTS UP TO 20 APRIL 2018 ::
We await you on this unforgettable journey into our BEING in the forest!
IT
1-15 MAIO 2018 CORSI in Amazzonia floreale foresta – Mapiá HEAVEN
IMMERSIONE NEL BOSCO MAGGIO 2018
CORSI DI FLORAIS AMAZON NELLA FORESTA
2 corsi al giorno
Corsi Classificazione per ordine di natura (livello base) e corsi e Sette punti di forza (livello avanzato)
Mapiá Sky – dal 1 ° maggio al 15 maggio 2018
Accesso: www.cursosnafloresta.com
ESEGUI IN QUESTO GIORNO E NON SARAI MAI LO STESSO!
Vi invitiamo a viaggio nel Mapiá dal cielo per IMMERSION NELLA FORESTA con corsi di fiori Amazon, dove un'opportunità unica per la guarigione e trasformazione personale vi aspetta!
"Un modo per accedere alla US interni, la sua essenza sacra e unica, ciò che è nel cuore di Si di esso. In questo modo morbido e sereno, intenso e profondo della foresta fiori, pura essenza della vita che perpetua se stessa all'infinito in ogni creatura come strumento di auto-conoscenza e auto-guarigione, purificazione ed evoluzione.
Il cammino che porta alla Mapiá del Paradiso, luogo di nascita del Fiore del Rio delle Amazzoni, di per sé è un'esperienza profondamente trasformativo. Quando viaggiamo i percorsi delle acque della foresta, ci troviamo di fronte mondi sconosciuti, le forze della natura dominante in tutte le direzioni, ogni volta più in porta di foreste vergini, dove la verità è l'essenza di tutto e le leggi più siamo in totale manifestazione.
Questa indimenticabile esperienza ci porta a viaggiare nel corso del nostro interno alla ricerca del nostro fiore, fiore del nostro essere, che ci darà tutto il necessario per lo sviluppo perfetta e costante miglioramento della vita. "
. :: ACCEDI TUTTE LE INFORMAZIONI PRINCIPALI sul sito:
www.cursosnafloresta.com
I posti vacanti sono limitati. Pertanto, è importante registrarsi il prima possibile per l'organizzazione perfetta del viaggio in modo da non rischiare di perdere questa grande opportunità.
:: SCADENZA FINALE PER LE ISCRIZIONI FINO AL 20 APRILE 2018 ::
Ti aspettiamo in questo indimenticabile viaggio nel nostro ESSERE nella foresta!
JP
AMAZON FOREST FLORAL、IN 1-15 MAIO 2018コース – cÉU DO Mapiá
2018年の森林侵食
森林のアマゾン・フローレンスのコース
1日2コース
コース自然(基本レベル)とコースの順で分類し、7ポイントの強さ(上級レベル)
MapiáSky – 2018年5月1〜15日
アクセス:www.cursosnafloresta.com
この日にエンパークして、あなたは決して同じではありません!
私たちは、花コース癒しと個人の変容のためのユニークな機会があなたを待っアマゾン、と森の中IMMERSIONに天国からMapiáに航海するためにあなたをご招待します!
それのSiコアにあるもの、あなたの米国のインテリアにアクセスするための「一つの方法、その神聖なとユニークなエッセンス、。、強烈な森林花の深いこのソフトで穏やかな方法で、すべての生き物で、それ自体が無限に永続生命の純粋な本質自己啓発と自己治癒、浄化と進化の道具として。
天国のMapiá、アマゾンの花の発祥の地につながる旅は、それ自体で深く変革の経験です。私たちは森の水のパスを旅行するとき、私たちは、未知の世界に直面し、すべての方向に支配的な自然の力、さらに原生林のリードに毎回、真実は、すべての本質であると法律はもっとある場所総体的な表現で。
この忘れられない経験は、私たちが完璧な発展と生活の一定の改善のために必要なすべてを与えるであろう、私たちの存在の私達の花、花の検索では、私たち自身の内部の過程で旅行する私たちをリードしています。」
。::サイトのすべての主な情報にアクセスしてください:
www.cursosnafloresta.com
空席は限られています。したがって、この素晴らしい機会を失うリスクがないように、旅行の完璧な組織のためにできるだけ早く登録することが重要です。
:: 2018年4月20日までの最終申込締切:
忘れられないこの旅で、私たちは森の中にあるBEINGにあなたを待っています!
NL
1-15 MEI 2018 CURSUSSEN VAN FLORAIS AMAZÔNIA IN HET BOS – MAPIÁ SKY
ONDERDOMPELING IN HET BOS MEI 2018
CURSUSSEN VAN AMAZON FLORAIS IN HET BOS
2 gangen per dag
Cursussen Classificatie op volgorde van de natuur (basisniveau) en cursussen en Zeven punten van kracht (gevorderd niveau)
Mapiá Sky – 1 tot 15 mei 2018
Toegang: www.cursosnafloresta.com
VERBODEN OP DEZE DAG EN JE ZULT NOOIT HETZELFDE ZIJN!
We nodigen u allen uit om naar Mapiá Heaven te reizen voor IMMERSION IN THE FOREST met de Amazon Floral Courses, waar een unieke kans voor genezing en persoonlijke transformatie op u wacht!
"Een manier om toegang tot uw US Binnenlandse Zaken, zijn heilige en unieke essentie, wat er in de Si-kern ervan. Deze zachte en serene manier, intens en diep van het bos bloemen, pure essentie van het leven dat bestendigt zich oneindig in elk schepsel , als een instrument van zelfkennis en zelfgenezing, zuivering en evolutie.
De reis die leidt naar Céu do Mapiá, de geboorteplaats van de Amazonian Florals, is al een diep transformerende ervaring. Terwijl we over de paden van het bos lopen, komen we onbekende werelden tegen, natuurkrachten die in alle richtingen domineren, waarbij elk moment ons dieper in de ongerepte bossen voert, waar waarheid de essentie van alles is en de Major Laws elkaar ontmoeten in totale manifestatie.
Deze onvergetelijke ervaring leidt ons om te reizen in de loop van onze eigen interieur op zoek naar onze bloem, bloem van ons wezen, die ons alles wat we nodig hadden voor de perfecte ontwikkeling en voortdurende verbetering van het leven zal geven. "
. :: TOEGANG TOT ALLE BELANGRIJKE INFORMATIE op de site:
www.cursosnafloresta.com
Vacatures zijn beperkt. Daarom is het belangrijk om uw aanvraag zo spoedig mogelijk te nemen om de perfecte organisatie van uw reis en je hoeft niet het risico van het verliezen van deze geweldige kans te voeren.
:: FINALE DEADLINE VOOR INSCHRIJVINGEN TOT 20 APRIL 2018 ::
We wachten op je op deze onvergetelijke reis naar onze ZIJN in het bos!
FR
1-15 MAI 2018 COURS DE FLORAIS AMAZÔNIA EN FORÊT – CIEL DE MAPIÁ
IMMERSION EN FORET MAI 2018
COURS D'AMAZON FLORAIS DANS LA FORET
2 cours par jour
Cours Classification par ordre de la nature (niveau de base) et des cours et Sept points de force (niveau avancé)
Mapiá Sky – 01 au 15 mai 2018
Accès: www.cursosnafloresta.com
EMBARKEN SUR CE JOUR ET VOUS NE SERA JAMAIS LE MÊME!
Nous vous invitons à Voyage au Mapiá du ciel à IMMERSION DANS LA FORÊT avec des cours de fleurs Amazon, où une occasion unique pour la guérison et la transformation personnelle vous attend!
« Une façon d'accéder à votre intérieur des États-Unis, son essence sacrée et unique, ce qui est dans le noyau Si de celui-ci. De cette façon douce et sereine, intense et profond des fleurs de la forêt, l'essence pure de la vie qui se perpétue à l'infini dans toutes les créatures , comme un instrument de connaissance de soi et d'auto-guérison, de purification et d'évolution.
Le voyage qui mène à Mapiá du Ciel, lieu de naissance de la Fleur de l'Amazonie, par lui-même est une expérience profondément transformatrice. Quand nous voyageons les chemins des eaux de la forêt, nous sommes confrontés à des mondes inconnus, les forces de la nature dominante dans toutes les directions, chaque fois plus loin dans des pistes de forêts vierges, où la vérité est l'essence de tout et les lois plus sont en manifestation totale.
Cette expérience inoubliable nous amène à voyager dans le cadre de notre propre intérieur à la recherche de notre fleur, fleur de notre être, ce qui nous donnera tout ce que nous avions besoin pour le parfait développement et à l'amélioration constante de la vie ».
. :: ACCEDER A TOUTES LES INFORMATIONS PRINCIPALES sur le site:
www.cursosnafloresta.com
Les postes vacants sont limités. Il est donc important de s'inscrire le plus tôt possible pour l'organisation parfaite de votre voyage afin de ne pas risquer de perdre cette belle opportunité.
:: DATE LIMITE POUR LES INSCRIPTIONS JUSQU'AU 20 AVRIL 2018 ::
Nous vous attendons pour ce voyage inoubliable dans notre ÊTRE dans la forêt!
IN
1-15 MAIO 2018 अमेज़न वन फूलों में पाठ्यक्रम – Mapia स्वर्ग
वन में आना मई 2018
वन में अमेज़न फ्लोरैस के पाठ्यक्रम
प्रति दिन 2 पाठ्यक्रम
पाठ्यक्रम प्रकृति (बुनियादी स्तर) और पाठ्यक्रम और ताकत के सात अंक (उन्नत स्तर) द्वारा वर्गीकरण
मैपिया स्काई – 01 मई से 15, 2018
पहुंच: www.cursosnafloresta.com
इस दिन को इकट्ठा करो और आप कभी भी ऐसा नहीं करेंगे!
हम आप के साथ फूल पाठ्यक्रम अमेज़न, जहां चिकित्सा और व्यक्तिगत परिवर्तन के लिए एक अनूठा अवसर आपकी प्रतीक्षा में वन में विसर्जन करने के लिए स्वर्ग से Mapia की समुद्री यात्रा करने के लिए आमंत्रित!
"अपने अमेरिकी आंतरिक, अपने पवित्र और अद्वितीय सार है, क्या इसके बारे में सी कोर में है का उपयोग करने में एक तरह से। यह नरम और शांत तरीके से, तीव्र और वन फूलों की गहरी, जीवन का शुद्ध सार ही हर प्राणी में असीम अविरत कि , आत्म-ज्ञान और आत्म-चिकित्सा, शुद्धि और विकास के एक साधन के रूप में।
यात्रा, अपने आप में स्वर्ग, अमेज़न के फूल के जन्मस्थान की Mapia की ओर जाता है एक गहरा परिवर्तनकारी अनुभव है। जब हम जंगल जल के रास्तों की यात्रा, हम आगे प्राकृतिक जंगलों, जहां सत्य सब कुछ का सार है की ओर जाता है में अज्ञात दुनिया, सभी दिशाओं में प्रमुख प्रकृति, हर बार की ताकतों का सामना करने और कानून अधिक कर रहे हैं कुल अभिव्यक्ति में
यह अविस्मरणीय अनुभव हमारे फूल, हमारे अस्तित्व के फूल है, जो हमें सब कुछ हम सही विकास और जीवन की निरंतर सुधार के लिए आवश्यक दे देंगे की तलाश में अपने स्वयं के आंतरिक के पाठ्यक्रम में यात्रा करने के लिए हमें ले जाता है। "
। :: साइट पर सभी प्रमुख सूचनाएं प्राप्त करें:
www.cursosnafloresta.com
रिक्तियां सीमित हैं इसलिए, अपनी यात्रा के सही संगठन के लिए जितनी जल्दी हो सके रजिस्टर करना महत्वपूर्ण है ताकि आप इस महान अवसर को खोने का जोखिम न उठाएं।
:: 20 अप्रैल 2018 तक के लिए नामांकन के लिए अंतिम समाप्ति ::
हम इस अविस्मरणीय यात्रा पर आपके इंतजार में जंगल में जा रहे हैं!
IS
1-15 מאי 2018 קורסים של פלוראיס אמז'ניה ביער – MAPIÁ SKY
טבילה ביער במאי 2018
קורסים של אמזון פלוריס ביער
2 קורסים ליום
קורסים סיווג לפי סדר טבע (רמה בסיסית) וקורסים ושבע נקודות חוזק (רמה מתקדמת)
מאיה סקיי – מאי 01 עד 15, 2018
גישה: www.cursosnafloresta.com
אמברקן ביום הזה ואתה לעולם לא תהיה אותו דבר!
אנו מזמינים את כולכם לטייל אל גן עדן למפיאה בגלישה ביער עם קורסי האמזונס, שם הזדמנות ייחודית לריפוי ושינוי אישי מחכה לכם!
"נתיב של גישה אל האני הפנימי שלך, המהות המקודשת והייחודית שלך, המהווה את הליבה של עצמך.הדרך העדינה, השלווה, העמוקה והמעמיקה של פרחים היער, תמצית החיים הטהורה המנציחה את עצמה ללא הרף בכל יצור , כמכשיר של ידע עצמי וריפוי עצמי, טיהור ואבולוציה.
המסע שמוביל ל Céu do Mapiá, מקום הולדתו של פרחוני האמזונס, הוא כבר חוויה מהפכנית. כאשר אנו פוסעים בשבילי היער, אנו נתקלים בעולמות לא ידועים, כוחות הטבע שולטים בכל הכיוונים, שבו כל רגע לוקח אותנו עמוק יותר לתוך היערות הבתולים, שם האמת היא מהות הכל והחוקים הגדולים נפגשים בביטוי מוחלט.
זו חוויה בלתי נשכחת מוביל אותנו לנסוע בתוך הפנים שלנו בחיפוש אחר הפרח שלנו, הפרח של הישות שלנו, אשר יספק לנו את כל הדרוש לפיתוח מושלם ושיפור מתמיד של החיים. "
. :: גישה לכל המידע הראשי באתר:
www.cursosnafloresta.com
משרות פנויות מוגבלות. לכן, חשוב להירשם בהקדם האפשרי עבור הארגון המושלם של הנסיעה שלך, כך שאתה לא מסתכן לאבד את ההזדמנות הגדולה.
:: סיום סופי לרישום עד 20 באפריל 2018 ::
אנו מחכים לכם במסע הבלתי נשכח הזה לתוך היער שלנו ביער!